10-09-2016, 08:34 AM (This post was last modified: 10-09-2016, 08:36 AM by Raven. Edited 5 times in total.)
Your name:

Raven



Your SteamID:

STEAM_0:0:47619776



Your ban ID: 

N/A



Banned by: 

[FC:M] Perqe



Reason:

For being cheeky to admins



Involved:

N/A



Why we should unban you:

I believe I was unfairly banned and that the admin which banned me ([FC:M] Perqe) did so for an invalid reason. Now the reason I was banned was, and I quote, "being cheeky". Now if that was the true reason, whomever is reading this - go to this link:  http://www.firstclassroleplay.net/showthread.php?tid=3, now point out the rule in which it states anything along the lines of: Do not be cheeky towards staff; Do not disrespect staff; Do not comment on staff decisions; Do not correct people's spellings in OOC. Find something? If you did then the rules page has been updated and I will refer you to the following image which I have taken on the time of writing this: https://i.gyazo.com/7150c4288df4eae7f42e...855bab.png. My point is, there is no rule which states any of the things which caused me to get banned. So how do you expect me to be aware of this rule which doesn't exist on your rules page!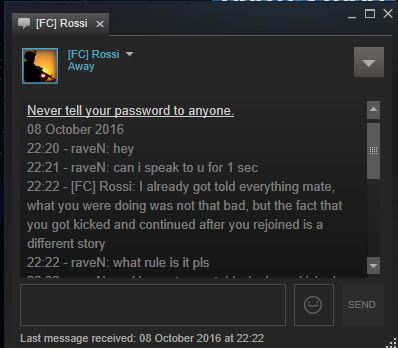 The above image was something Rossi told me over Steam chat. He hinted that what I did was not so serious to result in a ban, but rather the fact that I carried on afterwards. My problem with this point is why was I even kicked in the first place? If it is not enough to result in ban, what makes it enough to result in a kick? If it is not written down as a rule I have to assume it is not against the server rules.

From my point of view (and you can correct me if I'm wrong), I think Perqe didn't like my attitude in OOC, so he just kicked me. Without warning may I add. But you can't just go around kicking people purely because you don't like their attitude. You can't just go around making up rules on the spot.

I was banned for a rule that Perqe made up on the spot because he didn't like my attitude. And that is fact. So ask yourself this: Is that really a good enough reason to ban someone? Is that really a good enough reason to even kick someone? No it is not.
Best Regards,